Award winning internationally renowned wood turner Stuart Mortimer is expected to attract a large audience when he demonstrates his skill at a two-day wood turning and wood machinery event in Co Donegal this weekend.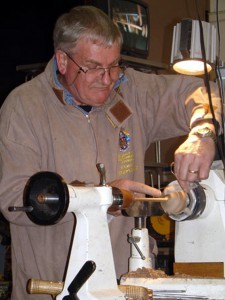 The two-day event is being hosted at WH Raitt in Stranorlar this Friday and Saturday, 23rd and 24th and is expected to attract wood turning folk from all over Donegal and parts of Ireland north and south.
The art of woodturning is very much alive and well in Donegal where the North West chapter of the Irish Woodturning Guild has a membership close to thirty turners, both skilled turners and learners.
Mr Mortimer is an award winning internationally known wood turner with a wide knowledge in many aspects of turning. His demonstrating and teaching skills are recognised both at home and abroad.
Stuart is a self taught turner from 1968 and winner of many national awards for his woodwork. He has built up an international reputation and is highly regarded by his peers and collectors alike in many areas of turning. He is also a writer, teacher, demonstrator, and consultant to turners and turning groups throughout the U.K., Europe, Scandinavia the U.S.A. and Australia.
A number of locals will also demonstrate at the two-day event including well known Donegal turner John Malone, while the Mc Garvey brothers of Donegal Pens will demonstrate their pen making skills at 4.30 p.m. on Friday. Stuart Mortimer will give three demonstrations on Friday starting at 11 a.m. and two further demonstrations on Saturday from 11 a.m.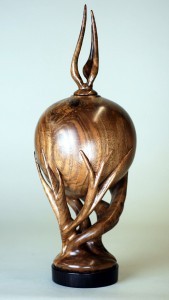 Members of the Irish Woodturners Guild, Willie Creighton, chairman and Eugene Grimley, secretary will give talks on both days about the guild and the national seminar to be held in Killarney in October.
Many other demonstrations will be given throughout the weekend by the various trade exhibitors.
A spokesman for the North West IWG chapter said they are delighted to have a turner of the calibre of Stuart Mortimer coming to Donegal.
"We expect a good turnout of wood turning enthusiasts at the weekend and the demonstrations are open to anyone. Stuart is a highly regarded turner and itís great to have him here with us," he said.
The show runs from 11 a.m. to 8 p.m. on Friday and from 9 a.m. to 1 p.m. on Saturday.
Ends