The Donegal Mountain Rescue Team were called into action for the second time in a week on Sunday after a member of a walking group made a call to the emergency services requesting assistance.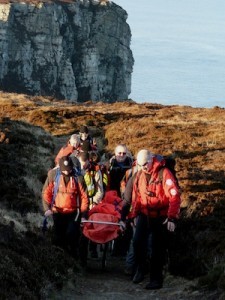 The call was made after one of their party had become very weak after a slip that had left her in a very weakened state near Dunfanaghy. A team from Donegal Mountain Rescue Team was deployed to assist the lady in question.
Due to the 1.5km distance to the road, over which the team would have to carry the stretcher, Malin Head Coast Guard Station was requested to put their Sligo based helicopter, Rescue 118, on standby.
The casualty was attended to and monitored, while two further units from the team responded. A stretcher carry-out was performed to the roadside, to a waiting HSE ambulance for further treatment. Donegal MRT would like to thank the casualty's fellow hillwalkers for their assistance in this rescue operation.
A similar incident took place on the McSwynes Gun Loop trail in Dunfanaghy the previous Sunday afternoon when a lady fell and fractured an ankle.
DMRT and the Mulroy Coastguard attended but due to the nature of the ladies injury and the probability of a stretcher carry out going into dusk it was decided to airlift the lady to Sligo General Hospital in rescue helicopter 118.
Tags: