ON SUNDAY, August 9, Letterkenny Golf Club played Portstewart in the second round of Senior Cup.
There were two matches in Barnhill and three in Portstewart, with Cian Harkin leading the way with a fabulous 8 and 7 victory in Barnhill.
And onto the drama in Portstewart. In the first match Simon Stephens had an epic match going all the way to the 18th were a winning par was enough to win the match two-up.
In the secpnd match Ryan Griffin was four down after eight, holes but battled back magnificently on the back nine to take the match down the 19th.
A six-foot putt for par was enough to send Letterkenny through to the last 16 where they will play Rathmore for a place in the Ulster quarter final.
Congratulations to Martin Kelly who had a hole in one at the 16th on the 3rd August.
This up coming weekend the Club will host Men's Captain Ed Margey's Captains Day on Saturday 15th with a number of events and competitions throughout the week – Full details are available on the club website. Best of luck to Ed and hope he has a great day.

Competition Results
Sheridan Security Open, 29/07/2020
Winner of the Sheridan Security open was Chris Duffy (5) with a magnificent level par round & 41 points BOT including birdies at the 1st, 7th & 18th.
Second place went to Peter Kavanagh (23) also with 41 points.
Gross prize was won by Cian Harkin (1) who also went around level par including birdies on the 4th, 5th, 7th & 18th.
Third place Columba Crawford (27)  with 40 points.
Fourth place Niall Diver (22) with 39 points.
Friday Open, 31/07/2020
Winner with a superb round of 1 under par 43 points that included birdies on the 8th, 10th and 11th and only included two bogeys was Seamus Patton (6).
Four Lanterns 4BBB Open, 01/08/2020
Winners of the Four lanterns sponsored better ball was the Carlin brothers Matthew & Daniel with a combined score of 46 points BOT
Second place when to Pat Bonnar & Brian McAleer also with 46 points
Gross prize went to the Darragh McMenamin & Brendan McGrath with 45 points
Third place also with 46 points was brothers Tommy & Karl Dempsey.
Global Tiles Men's Competition, 02/08/2020
Winner of the Global Tiles stroke play competition on BOT was Ciaran Haran (12) with nett score of 69.
Second Place went to big hitting Oisin McAviney (12) also with a nett score of 69.
Gross  prize once again went to Cian Harkin (1) with a great round of two over par.
Third place by BOT Sean McBride (17) with a nett score of 70.
Fourth place  went to Mark Cohen (15) also with a nett score of 70.
Cat 4 prize  went to Robbie McHugh (21) with a nett score of 72.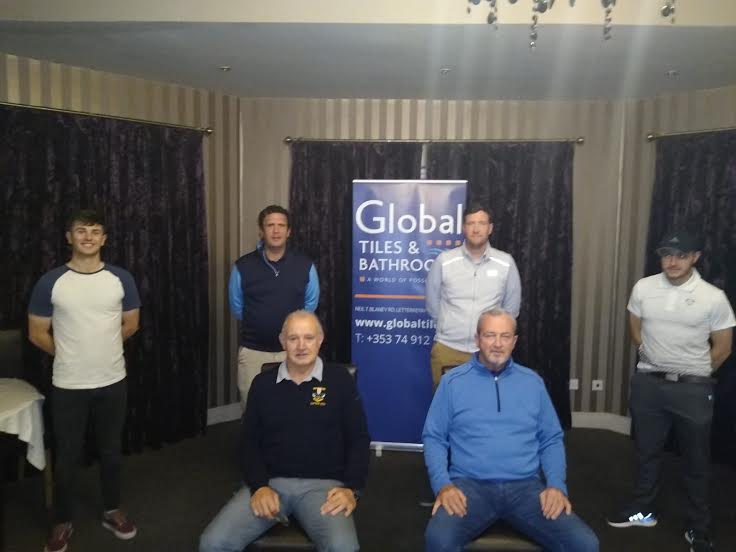 Letterkenny Credit Union Open, 03/08/2020
Winner of the Letterkenny Credit Union Open was Oisin Randles (18) with a terrific 44 points in a round that included 10 pars.
Second place by way of BOT went to John Gallagher (14) with a great score of 42 points.
Gross went to Darragh McMenamin who went around in one over par including eleven pars & three birdies.
Third place also with 42 points was Jack O Brien (12).
Fourth place went to Conor Coady (14) also with 42 points.
Recent cat 4 prize winners: 20th July winner Niall O'Donnell; 27th July winner Columba Crawford; 3rd August winner Hugh Herrity