CLOUGHANEELY Golf Club have reached the last four of the North Ulster Jimmy Bruen Shield. 
On a sunny Sunday afternoon in Ballyconnell, Cloughaneely met a strong Carrickfergus GC team from Co. Antrim in the last 8 of the Ulster North section of the competition.
Cloughaneely had home advantage, with 3 matches in Cloughaneely and 2 in Carrickfergus.
The new pairing of Cian McGarvey and the evergreen Paul Harkin produced the goods to win 4&3, with some scintillating golf by both young Cian and the super short game of Harkin coming to the fore.
The ever steady Mark McGinley & Danny McNulty won very well 5&3 with some solid golf. Both Mark and Danny are getting stronger as each round progresses, and Danny's dead weight putting is improving all the time.
Away from home, Peadar Curran and Paul Doherty were defeated 3&2 to a strong Carrickfergus team.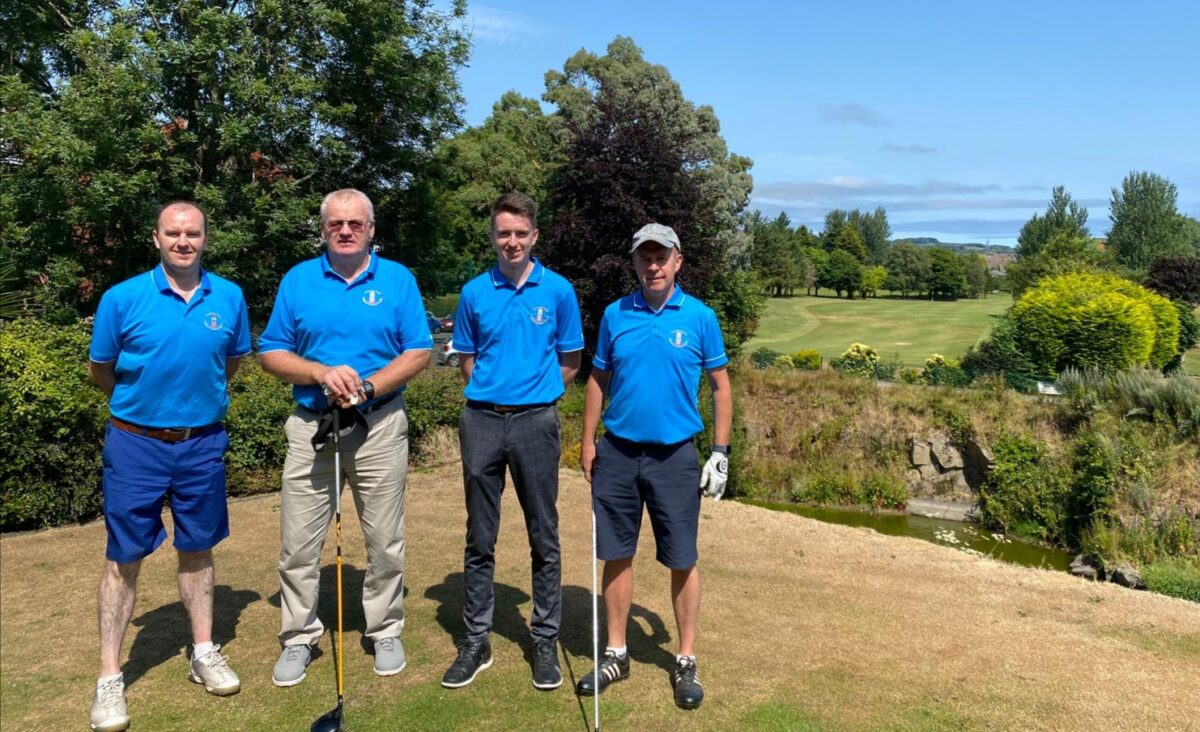 This left the score 2-1 with two matches left.
At home, Chris McCallion and Dean Gallagher came from 4 down after 8 holes to produce a mighty comeback. They won holes 9, 11 and 12 to reduce the deficit to 1 down.
Further wins on 14 and 15 meant they were 1up playing 18 and a steady par on the last was enough to win 2up and secure the much needed third point.
The away match of Sean O'Gallchóir and Gerry Doohan were called in playing the 17th in Carrickfergus GC.
Cumann Gailf Chloich Cheann Fhaola produced an amazing come back to win 3.5 – 1.5 and book a place in the semi-final of the Ulster North section of the Jimmy Bruen Shield. A super achievement for a small 9 hole club in the Donegal Gaeltacht.
Cloughaneely are also the only County Donegal club left in this prestigious All-Ireland competition. and face Strabane or Balmoral in the semi final.
Cloughaneely's Donegal League team were very narrowly defeated against Murvagh last Saturday. Cloughaneely won both home matches, losting 1 and they got 2 half matches away but lost both on the 19th and 22nd.
A very close match indeed and best of luck to Murvagh in the next round.
Owenie Pro MGee's big day, the 2021 Captain's Day is on Saturday 24th July. Timesheet now open please book on clubnet by Thursday morning. Cloughaneely GC wish Owenie Pro the very best this week.
OPEN WEEK 2021 FULL RESULTS 
Sunday 18th July, Singles Stableford kindly sponsored by McClaffertys Eurospar 1st: Hugo Cannon (12) 43pts 2nd: John Murphy (24) 42pts Gross: Conor Ó'Gallachóir (12) 28pts 3rd: Stephen McCafferty (23) 39pts BOT Visitor: Marian Cunningham, Bearna Golf Club (18) 39pts 1st 9: Breda McGeady (53) 20pts 2nd 9: Fergal Kilfeather (13) 21pts
Saturday 17th July, 3 Ball Scramble kindly sponsored by Óstan Loch Altan 1st: Carlos O'Reilly, Keelan McGee & Daniel Rutland – 59.3 2nd: David Hone, Seán Ó'Gallchóir & Noel Ó'Gallchóir – 60.3 BOT 3rd: Andrew Kelly, Eoghan Kelly & Dean McColgan – 60.3 Ladies: Mary McCrory, Roisín McGee & Sheila Doohan – 67.7
Friday 16th July,  4 Ball Better Ball kindly Sponsored by Creeslough Supermarket 1st: Darragh Geaney (12) & Martin Terry (14) – 49pts; 2nd: Anthony Doherty (10) & John McGinley (14) – 48pts; 3rd: Sean McGeady (21) & Catherine McGinley (23) – 44pts BOT
Thursday 15th July, Ladies 18 Hole Open, kindly sponsored by Teac Bhillie 1st: Donna Gallagher (57) 49pts; 2nd: Catherine McGinley (29) 40pts; 3rd: Mary Cox (44) 38pts; Visitor: Catherine Peters, Stackstown Golf Club (35) 36pts
Thursday 15th July, Men's 9 Hole competition, kindly sponsored by Damien Whoriskey Agri 1st: Michael Gibson (7) 20pts BOT; 2nd: Cian McGarvey (3) 20pts BOT; 3rd: Thomas McClafferty (24) 20pts
Wednesday 14th July, 3 Ball Better Ball, kindly sponsored by VP McMullin Solicitors Denis Boyle (10), Francis Boyle (12) & Donnachadh Boyle (37) – 101pts; Martin Giles (24), Neil McMullan (21) & John Murphy (24) – 94pts; Seán Ó Gallchóir (7), John McGinley (15) & Noel Ó Gallchóir (27) – 92pts
Tuesday 13th July – 9 Hole Open Singles kindly sponsored by Seamus Danny 1st; Vincent Collum (15) 20pts; Cat 1; Joe Friel Jnr (12) 19pts; Cat 2; John McGinley (15) 19pts; Cat 3: Eamonn McCourt (22) 19pts; Visitors Prize: Frank Ferry (10) Dunfanaghy GC 19pts; Ladies Prize: Anne Collum (47) 17pts
Monday 12th July – 3 Ball Scramble kindly sponsored by Danny McNulty 1st; Denis Boyle (10), Francis Boyle (12) & Donnachadh Boyle (37) 53 1/6; 2nd; Brian Geaney (12), Darragh Geaney (12) & Martin Terry (15) 54 1/2; 3rd; Joe McGarvey (21), Shaun McGarvey (21) & Donna Gallagher 54 5/6; 4th; Shane Collins (12), Owen Pro McGee (16) & Owen Pro Jnr (22) 55 2/3; Visitors Prize; Keelin McGee (10), Daniel McLaughlin (19) & Michael Cannon (5) 56 1/3 Dunfanaghy GC; Beginners Prize; Joseph Mangan, James Mangan and Seamus McGee; Seniors Prize; Joe Friel Snr, Kenny Macpherson & James McFadden.